Perfect Privacy VPN
8.96 EUR
Benefits
Absolutely highest anonymization and unlimited device usage!
Do not ask and save data
Mulit-Hop VPN obscures the identity better than any other solution!
Great personal customer service
Fast servers and connections with max. Transparency for the user
Negative
Higher but reasonable price (premium supplier)
| | |
| --- | --- |
| Connections per account | unlimited |
| Tariff (1 month) | 12.99 EUR |
| Tariff (12 months) | 119.99 EUR (per month 10 EUR) |
| Tariff (24 months) | 214.95 EUR (per month 8.96 EUR) |
| test options | Limited free trial period (without payment) |
| video platforms | Netflix , zattoo (CH) , Waipu , ARD (EN) , ZDF (DE) , BR DE) , N24 (EN) , MDR (EN) , rbb , WDR (DE) , Arte DE) , 3Sat (EN) , Pro7 (EN) , Sat1 (EN) , Cable1 (EN) , SRF (CH) , Servus TV (DE, AT, CH) |
The test for VPNProvider from Switzerlandwhich the highest anonymity guaranteed. Privacy is a concern of the service and is consistently implemented.
It will no log files stored, no user data is created on servers and if one of the VPNServer is shut down or restarted, all data is immediately deleted. In addition there is a "real" multiple connection (Multi-Hop) for the further anonymisation of the identities of the users and, if desired, even with a connection directly to the ONION network (TOR)
Perfect-Privacy Speed ​​Test
The servers of Perfect Privacy have no unnecessary ballast and have been optimized to run completely in fast DDR3 RAM (temporary storage), resulting in extreme speeds. Of the VPN Manager always provides an overview of the workload and the available bandwidths. Even connections across multiple sites (cascaded multi-hob connections) provide comfortable working. You can not do it better. The wages are in all areas absolute peaks in the transmission and also the PING times. In my opinion absolutely exemplary!
Perfect-Privacy Test: Anonymity & Privacy
The real profession of VPNProviders are the features that help protect identity across the network. To put it in a few technical terms: WOW .... Wow!! The servers are all completely without recording services equipped, the entire configuration including registration history takes place only in the temporary memory and is automatically deleted when restarting. You can have your identity across multiple locations (Multi-hop) similar to the TOR network disguise and still has a comfortable speed advantage. No personal data is requested when registering, and if you wish, you can also send encrypted e-mail communications. It was thought of everything that helps to prevent inferences on users and therefore the service is anonymity concerns the clear NUMBER 1 in all tests I have done so far! You can also use completely anonymous payment methods, just inquire with the customer service!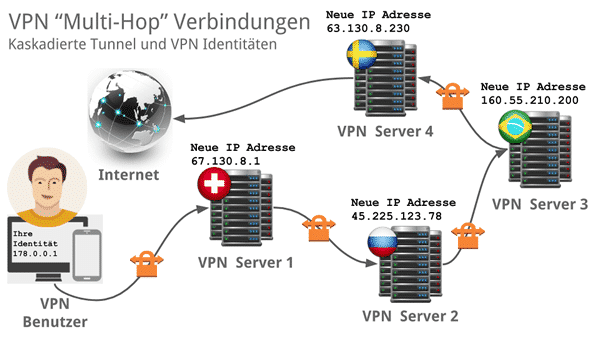 Perfect Privacy VPN Server and network
The VPN Server are currently in the following countries:
Egypt
Australia
Germany
France
Great Britain
Hong Kong
Iceland
Israel

Japan
Canada
Latvia
Lithuania
Luxembourg
Netherlands
Norway
Romania

Russia
Sweden
Switzerland
Singapore
Czech Republic
Turkey
USA
The current utilization of the server is visible at any time even without logging on Overview page (server status).
Perfect-privacy prices

Various monthly packages are offered, which also offer a certain price advantage through longer prepayments. However, one should not expect any Supersondernetto offers! Perfect privacy is not cheap! But it always offers "unlimited number of device usages with one account"And a customer service who also helps himself directly via TeamViewer on the PC.
1 month € 12,99
3 months € 35,94 (€ 11,98 / month)
6 months € 65,94 (€ 10,99 / month)
12 months € 119,88 (€ 9,99 / month)
24 months € 214,80 (€ 8,95 / month)
These are the naked numbers. But you just have to remember that quality and safety, and that is offered, must also have your price!
My summary about Perfect Privacy
One can only refer to the provider as a "specialist" for privacy, because the arrangements that have been made go far beyond the services usually provided. If you really want to protect yourself without sacrificing performance, you prefer to keep your identity to yourself in everything you do on the Internet, you can not ignore Perfect Privacy!

What I also want to mention: The provider offers a separate client for Windows and helps with all other devices in the configuration, but it is not everything as easy as with other providers - but just more trustworthy and safer by the use of open source software.

Try 3 days for free!
You can test Perfect Privacy for free, but we are the only website that has received coupons from the provider. This allows our readers to use the service free of charge for 3 days and without further obligations. These entrances are not restricted and can easily be used later.
link:
Try Perfect Privacy for free!
Also recommended is that Interview that I led with the guys from PP at 03.02.2016!
Video Tutorial:
Multi-hop VPNCascading across multiple servers with Perfect Privacy (multi-server)VPN)
More posts on Perfect Privacy VPN
Created on:02/02/2016