Cyber ​​Ghost VPN
11.99 EUR
Benefits
Complete in German
Easy usage
Interesting additional functions
Negative
Speed ​​reduced by using proxy rather
Data transfer to private companies and authorities according to the GTC
Deceptive anonymity, here is clearly exaggerated in advertising
| | |
| --- | --- |
| Connections per account | 1 |
| Tariff (1 month) | 11.99 EUR |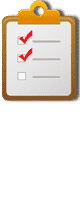 Is CyberGhost VPN for sure?
CyberGhost VPN is a very popular one VPNProvider in the German-speaking area, The operator is domiciled in Romania and settles through a German company (Cleverbridge). Advertising co-operations with heise.de and chip.de also announced the company in addition to a crowdfunding campaign. CyberGhost even offers a complete and permanently free VPNTariff, which is limited to slightly slower and limited server selection, but otherwise unlimited available. CyberGhost relies on a combination in its network VPNEncryption and also the use of proxy server. As a result, the vendor can provide access and identity across locations in 30 countries, as well as additional features such as: Ad blocking, tracking blocker, anti-phishing, anti-virus etc .. Since the packet contents of the users are recognized and manipulated via the proxy service. This has some advantages but also disadvantages as I will describe in the following review. My first experiences I did with the provider 2014, but since then a lot has changed technically.
Update: CyberGhost VPN Represents the operation of the free VPNServices, finalized by December 2018.
Installing CyberGost VPN and software selection.
The installation is a bit different from what happens with other providers / services, because you first create a device on the website, you choose which device it is. Then you install the software. An unincorporated device is not recognized. This is on the one hand comfortable but also has certain pitfalls, since you always have to create new devices on the website of the operator first. So you can create a maximum of 5 devices, if you want to add an extra, then you have to delete a previous one.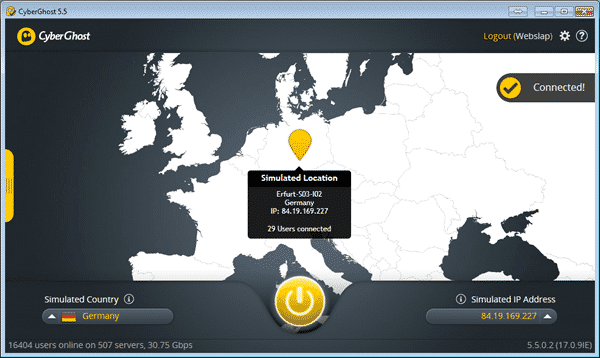 CyberGhost VPN Apps and VPN-Zugangssoftware
The own apps and software for computer look very similar and offer a graphically very well thought-out representation of the functions. A map with the current or the selected location is always displayed. When creating a connection, even an animation changes your own location. This also helps inexperienced users to easily identify which location they are currently connected to and which IP address they are currently using. In addition, additional functions that are created via the proxy functionality can be switched on and off. The detailed graphical representation also has the disadvantage that the apps, especially on slower devices only jerky or sometimes can not respond at all.
Speeds in the network of CyberGhost
In my tests, I found out that CyberGhost uses other servers for the free tariff as for the Cyber ​​Ghost Premium rates, the servers available for free are obviously limited in bandwidth and are supposed to allow a connection, but no speed noise, accordingly, the tested bandwidth also settled on +/- 2MBit / sec. In the premium tariffs more and faster connections are used. However, these are also easily recognized by additional proxy servers. As a result, data traffic is examined during both transmission and reception. The resulting slower ping times have been easy to spot. Even a "compression" of the data offered, brought here, of course, no improvement. This helps only with longer and larger amounts of data, but not with small data packets, as they are used by online games or VoIP, etc. In sum, using all features means CyberGhost offers a reduction in bandwidth by 15-20%. That is quite a significant value and not located in the TOP area.
Protection of anonymity with CyberGhost VPN
On the one hand, CyberGhost justifies VPN the outsourcing of billing activities also in its conditions with the protection of user data:
Personal data: CyberGhost collects and uses none Personal information such as email address, name, address and payment information.
I just do not quite believe that this is the main reason for it, I think it's more of a reason for the corporate stakes and the advertising partnership that forced this step to the settlement of the company "Cleverbridge". In the regulations CyberGhost describes VPN handling user data as follows:
Log data: CyberGhost does not maintain logs that allow conclusions to be drawn about the IP address, time or content of the traffic. It should be expressly stated that we do not log the communication content, data about accessed websites or IP addresses.

CyberGhost VPN records only for statistical purposes non-personal data (such as the load on the server), which at no time can pose a threat to your anonymity. They serve only the quality improvement of the service.
This is nicely written, but since you have to manually add every device you use, other data can be read out of it, so the IP address is just a feature of how to uniquely identify the user. Because in the terms and conditions is also written by the "responsibility of the user:
You are bound by this Terms of Use, the laws and regulations, and you are responsible for their compliance. CyberGhost does not take responsibility for your activities. CyberGhost will cooperate with users of the law and at its sole discretion with public and private criminal and law enforcement authorities and entities in the event of legal violations by users.

CyberGhost reserves the right to access CyberGhost for violations of the law VPN restrict or suspend in full or in part and initiate legal action.
Well, let's look at the topic of anonymity & privacy through CyberGhost VPN once technically:
CyberGhost VPN uses rented DedicatedServer in different locations, this is also the usual way and process, like a VPNProvider expanded its network. Proxy servers are also used there to inspect the traffic of the users. I noticed that some of the sites use Google DNS services as a backup. This means that if a DNS server from CyberGhost is not available in time, then the GoogleDNS server: 8.8.8.8 or 8.8.4.4 is switched. This is not very anonymous, because it also allows user activity to be recorded by "trusted" third parties. That's a big MINUS on the anonymity scale!
In addition, all data sent or received by the user, even transmitted through SSL connections, will be broken up and examined. Thus, it is only possible to remove "tracking codes" from the data as well. Since the log files of the proxy server saved a lot of personal and evaluable data!
Interesting is also the transparent report the CyberGhost VPN has published.
I would therefore say that CyberGhost offers good protection against deliberate hackers or sniffers in the network or the Internet provider, anonymity to CyberGhost or authorities or even some companies but no question. As exaggerated CyberGhost obviously with their own information!
Customer service from CyberGhost
The provider offers all documents and software as well as the customer service completely in German, this has some advantages, as this is easier and more understandable for most users. Therefore, contact with the customer service is not really necessary. CyberGhost also talks about an 365Tage customer service, but in my test, some requests were only answered 2 days later. That should not happen, but well we are all human (most of us). Generally, however, there is a thick PLUS for easy handling even for laymen.
My summary about CyberGhost VPN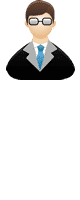 I find CyberGhost basically not bad, it reliably protects against many dangers that exist for ordinary users on the Internet and also creates reliable connections and identities in many countries. It is easy to use and does not need much thought at the cheap price anyway. However, I do not believe that it also protects against some co-operation with authorities or intelligence services, but since this does not seem important to everyone, I can recommend this under this condition!
Created on:02/23/2016