SaferVPN
2.5 USD
Benefits
Israeli provider with outstanding ease of use
Software / Apps and also Chrome extension are easy and safe to use
No log file storage
Fast connections and secure protocols
24h free unlimited trial!
Negative
Only available in English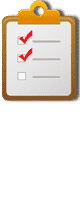 | | |
| --- | --- |
| Connections per account | 5 |
| Tariff (12 months) | 65.88 USD (per month 5.49 USD) |
| Tariff (24 months) | 78.96 USD (per month 3.29 USD) |
| Tariff (36 months) | 89.99 USD (per month 2.5 USD) |
| Tariff (1 month) | 12.95 USD |
| test options | Refund warranty |
SaferVPN is the service of Israeli provider Safer Social Ltd, based in Tel Aviv. The provider has understood the required access software for his VPN-Service as easy as possible and also offers a simplified version also directly as an extension for the Google Chrome browser. So even beginners are well protected within a few minutes with a VPNLocation connected. This is a pleasing advantage since technical gimmicks do not represent such an easy task for every user.
[Toc]
Overview
Special offer, only available for a short time!
No coupons found.
SaferVPN Software
One of the big assets of SaferVPN are the very clear VPNAccess applications and software. These are available for Windows, Mac OSX, Android, Apple iOS and also as an extension for the Google Chrome browser. Basically all are very similar and do not confuse the user with too many settings. All you have to do is log in with your user data (email + password) and choose a server (country), after pressing "CONNECT" the rest will be done by itself and within a few seconds you will already be connected. There are also setting options, so you can choose between the different VPNProtocols or some security settings. But it is not necessary because everything is already configured.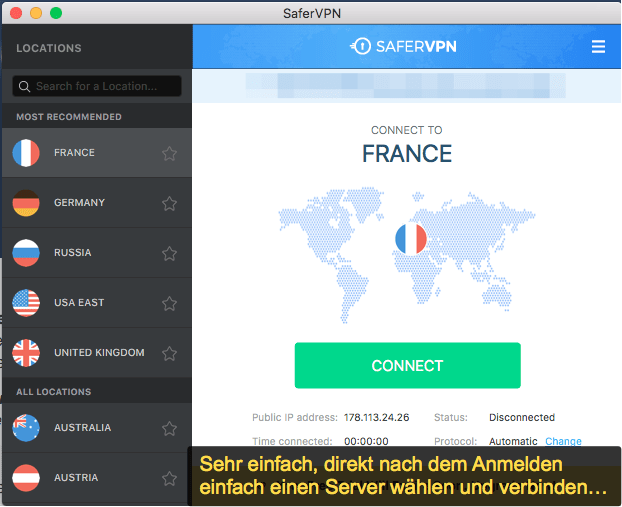 SaferVPN Server
The saferVPN Network now includes more than 400 active servers in 30 different countries. This server selection is necessary because more than 500.000 users already use the service. The servers are constantly being expanded to really offer every user the full bandwidth. The user himself, however, only has to decide on one country, the rest is done by the technology in the background, which automatically selects the fastest available server. All servers support the VPN Protocols PPTP, OpenVPN and L2TP / IPsec, making it suitable for all devices.
SaferVPN for TV & video streaming
TV and video streaming from abroad are important reasons for many users of SaferVPN, The servers and the network have been optimized accordingly and always guarantee a good transmission speed. Many of the users who focus on TV / video streaming only use the handy Google Chrome browser extension. Thus, it is not necessary to install a software in addition to the device and you can still select the desired location directly to connect via the browser.
SaferVPN Security & anonymity
SaferVPN relies on a strict NO-LOGGING policy, so it completely waives the logging or storage of user activity. At no time. This allows users to be sure that all activities can take place completely anonymously and also past state surveillance measures. The data transmission is based on the known VPNProtocols OpenVPN, L2TP / IPse and PPTP. Of course, I always recommend only the OpenVPN Standard to use, because this is considered particularly safe.

SaferVPN Rates & Prices
The saferVPN Tariffs are available with a monthly term, 6 months or even for 12 months.
Unlimited bandwidth / speed

The use of software and apps

24h live chat customer service or even by e-mail

At any time server change
Access and use of 90 + Server in 39 different countries worldwide
High encryption up to 256-bit
Waiver of logfile / activity storage, at any time
30 days money back guarantee
no hidden costs
Always prepaid, so all tariffs are led by advance payment without contract.
SaferVPN, current prices
[columns]
[column width = "one-third"]
1 Monat
€ 6.77
without binding! [/ column]
[column width = "one-third"]
6 months
€ 31.55
(€ 5.26 / month) [/ column]
[column width = "one-third"]
12 months
€ 54.14
(€ 4.51 / month) [/ column]
[/columns]
Note special offer:
No coupons found.
My conclusion about SaferVPN
I have saferVPN also nice because of the simplicity. The service offers a lot that makes users look for your head VPNWish and has remained clear and understandable. Of course it is also a great advantage if you live TV directly and without VPNSoftware through the browser extension of Google Chrome. The one is not protected but if you use other applications (torrent, e-mail programs, etc.) but you should mention. I recommend SaferVPN everyone with little experience VPN Services has preferred or simply a simple cheap service.
Created on:07/04/2016